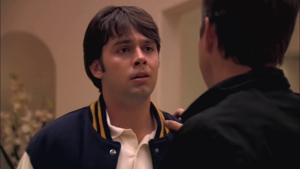 Steve Holt, the illegitimate son of Gob Bluth on Arrested Development, has not been signed to the upcoming reunion of the show's cast. But that hasn't discouraged Justin Grant Wade, the actor who played the not-so-bright jock in the three-season cult TV series. He's taken to the task of getting Steve Holt back into the limelight by campaigning for his return. So, how does Wade plan on doing that?
In Steve Holt fashion, of course.
SaveSteveHolt.com
has emerged with a "Save Steve Holt" t-shirt you can purchase and also encourages people to tweet with the hashtag #savesteveholt. Check out a recent interview with Wade below.